Parking will be FREE for the event! Please follow the image below if driving to the venue:
FREQUENTLY ASKED QUESTIONS

All persons, bags, parcels, clothing, and other items may be subject to screening/security checks
You are not allowed to take off your badge or trade badges with other people at any time.
No smoking marijuana or consuming any illegal substances of any kind
Must be 21+ to consume alcohol at the event (cannot bring your own alcohol)
All persons are subject to be denied entry and/or removed from the premises at the discretion of event staff
Anyone causing or engaging in disruptive behavior, violence, unsafe or illegal acts or committing any acts in violation of event rules are subject to removal from the premises at the discretion of event staff.
Livestreaming will not be allowed at the event. Anyone seen livestreaming will be removed from the premises.
Unauthorized access or entry into backstage areas or areas designated for event staff and private guests (this includes the private suites overlooking the field) is prohibited.
Please show common courtesy to fellow guests and event staff by not using profanity or engaging in unsafe, illegal, disruptive, or offensive behavior, jumping lines or saving places in lines for others. For your safety and the safety of others, please refrain from running.
Proper attire including shoes and shirts, must be worn at all times. Clothing that drags on the ground is prohibited. Clothing with multiple layers is subject to search. We reserve the right to deny admission to or remove any person wearing attire that is considered inappropriate or attire that could detract from the experience of other guests.
All attending guests are required to also follow the venue's rules that are displayed at the entrance gates. Anyone caught violating the venue's rules are subject to removal from the premises
We are not responsible for loss or damage of belongings or property, consistent with applicable law.
We may photograph, film, videotape, record, or otherwise reproduce the image and/or voice of any person who enters the event, and use the same for any purpose without payment to any person.
ALL RULES ARE SUBJECT TO CHANGE AT ANY TIME WITHOUT NOTICE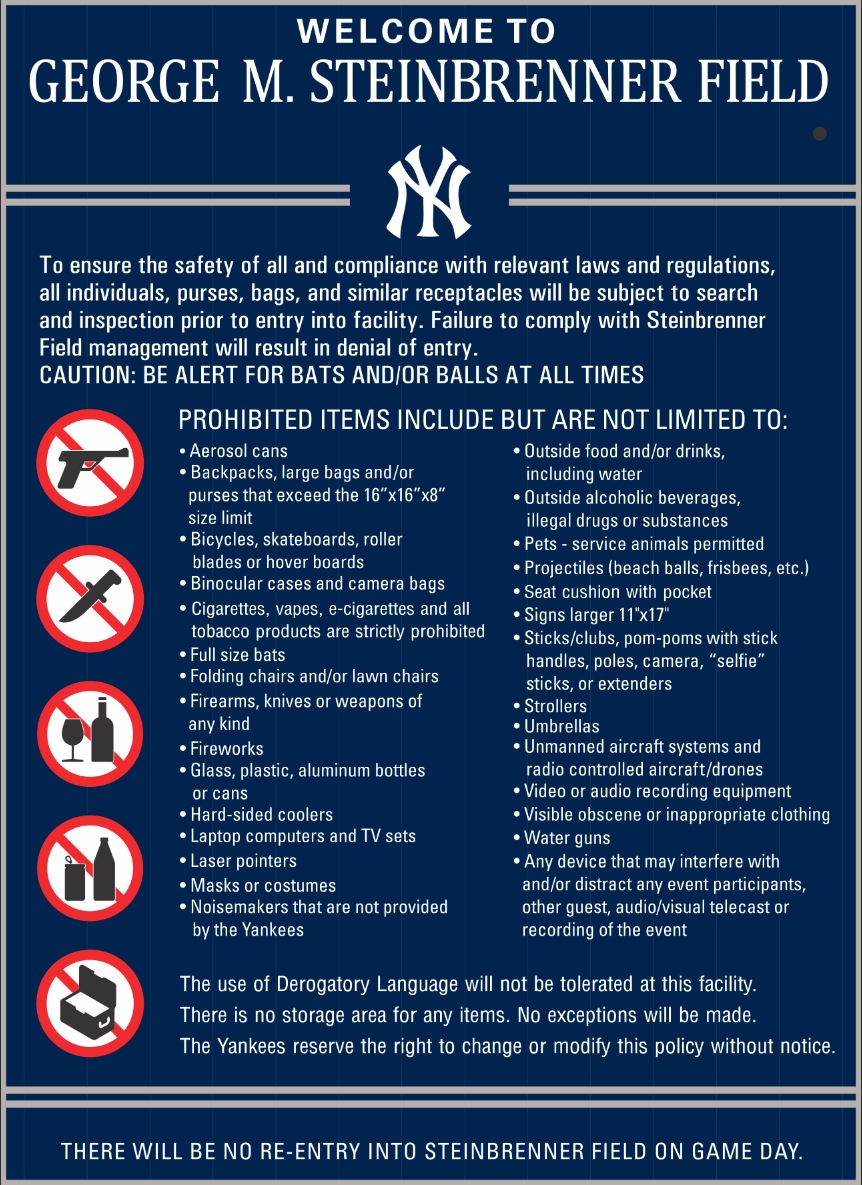 HOTEL INFORMATION
USE CODE "MFAM" FOR DISCOUNTED HOTEL RATES
(Some hotels may require you to call in to get the discount. When calling, mention "NICKMERCS BBQ at Steinbrenner Field" for the discount)